Top 10 June Events
---
Maudie's Midnight Margarita Run and Festival

Seaholm District
June 7th, 2018 | 7:00-11:00 PM 
This lively, nightime event is a fundraiser to celebrate the The Trail Foundation's 15th Anniversary. Participants may choose to walk or run the 5K and runners over the age of 21 may have a celebratory margarita at the race's finish line. The event is followed by a party, with an Outdoor Voices pop-up shop, a Maudie's dinner with Margaritas, dancing, a photo booth and music. Tickets are available for the run and after-party separately, or you may purchase a ticket that includes both. All ages are welcome and invited to participate!
---
Bubblepalooza
The Long Center
June 9th , 2018 | 9:00 AM

The Spring 2018 Pecan Street Festival is celebrating its 41st year! This event is one of the largest, and longest-running, arts, crafts and music festivals in the nation. Since 2006, the Pecan Street Festival has been presented by Pecan Street Association and produced by Special Events Live bi-annually.
The Pecan Street Association was founded to preserve the Sixth Street Historic District. In 1977 when the downtown area was scarcely populated with abandoned buildings, this organization was instrumental in reclaiming the space and beginning renovations. All proceeds from the festival are used for the Historic District's beautification, education and promotional activities, as well as for supporting the community through financial contributions given to charities that serve the Austin region.
---
Blues on The Green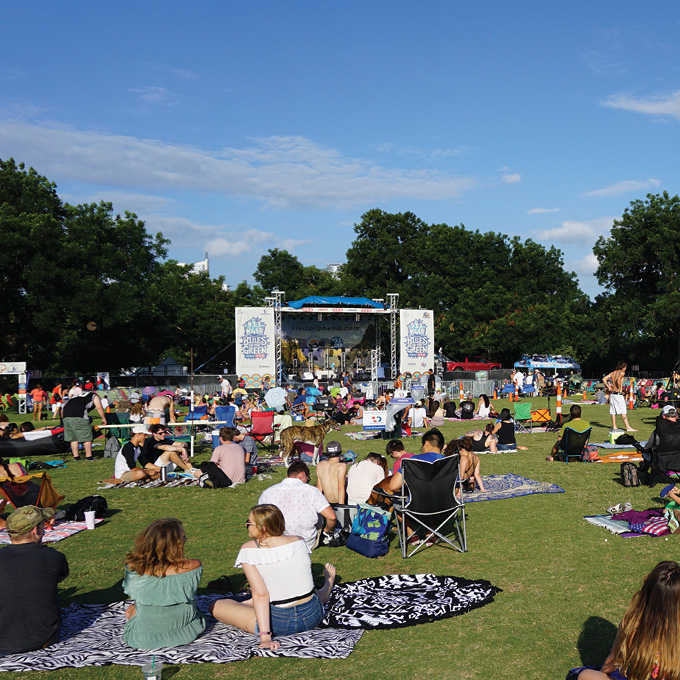 Zilker Park
June 13th, 2018 | 8:00 PM 
Pack a blanket and the family and make your way to Zilker Park for this summertime tradition. Held monthly from May to August, Austin's largest free concert series will welcome performances by top local bands. 
---

Jaws on The Water
Volente Beach Resort
June 16th, 2018 | 6:00-11:00 PM
On a warm, Texas Saturday night, float on an inner tube and float on the waters of Lake Travis while watching the classic movie JAWS on the big screen. The event includes a souvenir inner tube, admission to the water park and all rides and amenities from 6:00 p.m. until showtime (around 8:45), and a firework show. This venue has food and drinks available, and the event is family-friendly and will provide life jackets for any age upon request.
---
Juneteenth Parade and Celebration
B.D.H.S Center
June 16th, 2018 | 10:30 AM 
Juneteenth, also known as "Freedom Day" or "Emancipation Day," is the oldest known African American celebration commemorating the end of slavery. This annual event features a 2K walk/run, parade floats and entertainment and celebration at Rosewood Park.
---
Fun Stop 5K and Festival
Riverside Drive in front of the Long Center
June 23rd, 2018 | 4PM to 9PM 
Formerly known as the Keep Austin Weird Festival and 5K, Fun Stop 5K and Fest is back and bigger than ever. This event for people of all ages includes a festival with music and entertainment, food and drink, a costume contest, fun activities, and more. The 5K is one that will have plenty of fun stops along the way, including a donut stop, a puppy-kissing stop, a foam pit and many more. Nicknamed "the slowest race ever", this 5K is unlike most others. Grab your costume and attend with family and friends for a crazy Saturday.
---
Fit Foodie Festival
Mueller Lake Park
June 23rd, 2018 | 8:00AM 
The Fit Foodie Festival & 5K celebrates the balance of a delicious, healthy and active lifestyle as runners eat their way to the finish line with bites at every mile, then celebrate at the post-run Food and Fitness Festival. Inside the Food and Fitness Festival, runners are rewarded for making healthy choices with tastes from local restaurants, beer and wine gardens, mini-workout classes, cooking demonstrations, and more.
---
Austin Ice Cream Festival
Austin's Fiesta Gardens
June 23rd, 2018 | 10:00AM to 3:00 PM 
  The Austin Ice Cream Festival is a festival fun for ice-cream lovers of all ages. From 10:00 a.m. to 3:00 p.m. enjoy up to 20 frozen treat samples, participate in fun contests and activities while enjoying entertainment. There will be savory food trucks on site as well, if you'd like a break from the sweets. All ages are welcome. After Dark is from 6-10. This event includes all of the fun from earlier with boozy treats, cocktails, and lots of local music.

---
Domain Concert Series 
The Domain
Every Friday and Saturday | Fridays at 6:00PM and Saturdays at 2:00 PM 

 The Domain is putting on a series of free concerts of great local music for Summer. Starting June 2nd, catch different artists spicing up the Domain's fun outdoor environment. All ages are welcome, some shows will have games and prizes available too. The Domain also offers dining and shopping, if you'd like to go before the show! Bring the whole family out for the fun!
---
Austin Symphony Concerts in The Park
The Long Center
May 3rd – August 8th, 2018 | 7:30PM

Now in its 16th season, the Austin Symphony Hartman Foundation Concerts in the Park are held in front of the Long Center on Sundays throughout the summer at 7:30 p.m. Concert styles include strings, woodwinds, big band and brass.